"Happy Thanksgiving, God bless you and let's eat!" a man explained to a line of people who were waiting for food.
"Amen!" they screamed in response.
Hundreds of people lined up on Thanksgiving Day to receive groceries for a year from local nonprofits that have plagued residents with a global pandemic, restrictive health orders and economic fallout.
"We don't have much, but we'd like to say thank you," said Raul Gonzalez, who stopped at the CityTeam Center on Oakland Road in San Jose for a holiday dinner. He said he lived outside in a tent and came to the center regularly to eat.
"Without these people we wouldn't be eating," said Gonzalez.
Raul Gonzalez stands outside the CityTeam center on Oakland Road in San Jose after receiving his Thanksgiving meal. Photo by Sonya Herrera
CityTeam was one of several groups that distributed meals for Thanksgiving Day in San Jose. The nonprofit serves Thanksgiving meals every year, but this year meals were packaged and ready to go due to COVID-19.
CityTeam's Thanksgiving meal included hot and freshly made turkey, mashed potatoes, macaroni and cheese, stuffing, vegetables, and rolls, according to Reynolds Stewart, CityTeam's chef. Residents also had the opportunity to take home apple and sweet potato tarts, as well as a hygiene kit with socks, hats and other items.
Stewart, the group, would typically serve between 700 and 800 people on Thanksgiving. But this year Stewart was expecting more than 300 to 400 people because they wouldn't be able to eat inside.
"We wanted to find out how we could serve people while meeting Santa Clara County's needs," said Stewart.
Chef Reynolds Stewart overlooks the preparation of Thanksgiving meals in the CityTeam kitchen in San Jose. Photo by Sonya Herrera.
Erich Von Shultz said he lived in a homeless camp near the railroad tracks in San Jose. Von Shultz said his neighbors and CityTeam provide a much-needed sense of belonging.
"It keeps you going during times like these," Von Shultz said. "They hand out pretty good food."
Oscar Martinez (left) and Erich Von Shultz pose after receiving grocery bags from CityTeam in San Jose. Photo by Sonya Herrera.
Earlier in the day, more than 20 people stood in line to receive a hot meal in the first half hour of the service in the Vietnamese Seventh-day Adventist Church.
Residents lined up at a carpet on the "red carpet" to receive bags of hot meals prepared by Loaves & Fishes Family Kitchen. Meals, which were packaged in the organization's van after resting on a heated rack, included Thanksgiving staples such as turkey, stuffing, yams, green beans, and cranberry sauce.
One of these residents was Alex Garcia, who said he usually comes to church on weekdays for hot meals. Garcia, who lives in his truck in San Jose, said Thanksgiving service was a blessing considering how many services were restricted during the pandemic.
"You help a lot of people," said Garcia. "Many other places had to be driven back."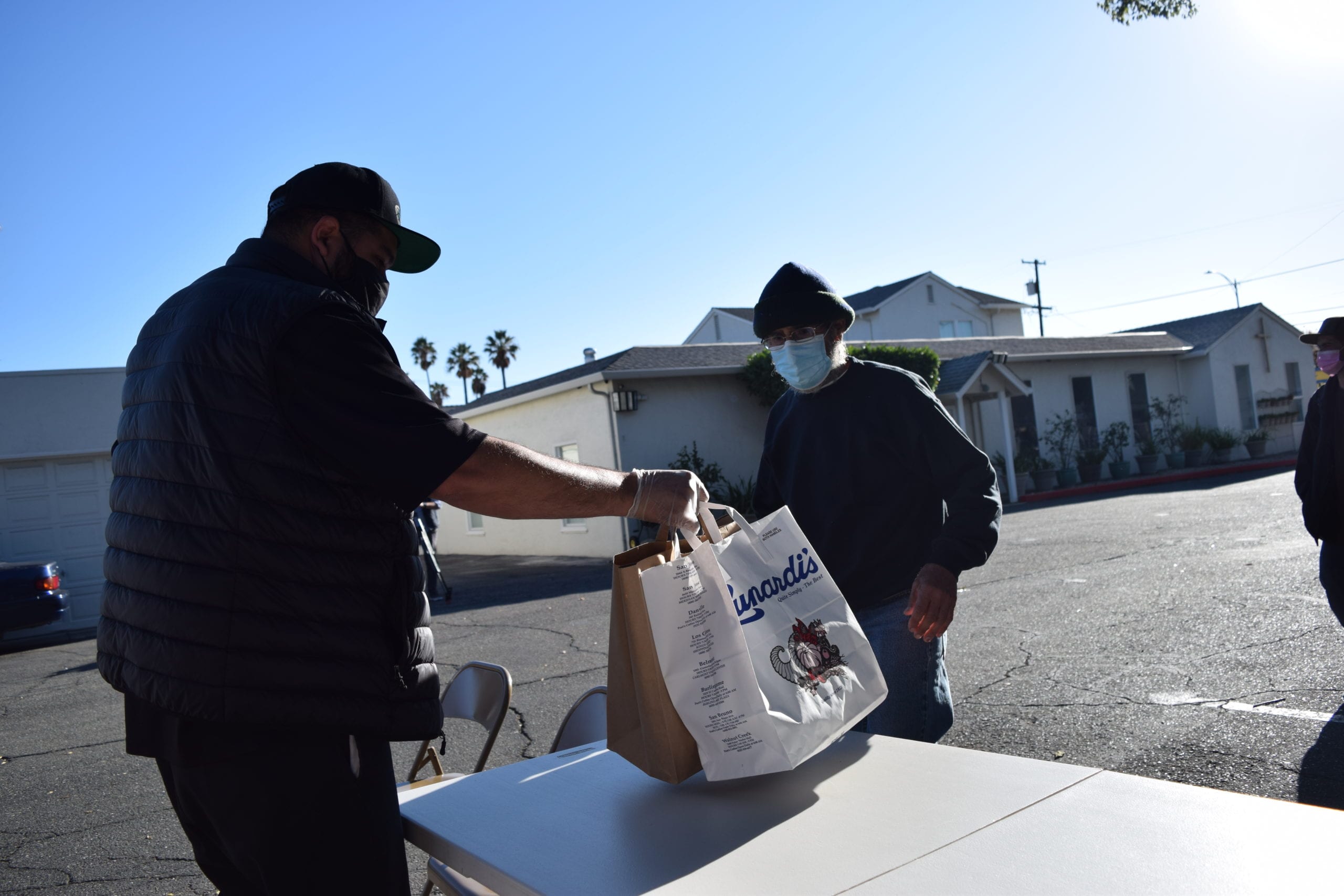 Cornelio Chavez, a driver ambassador for Loaves & Fishes Family Kitchen, hands Alex Garcia food on Thanksgiving in the parking lot of the Vietnamese Seventh-day Adventist Church on South Second Street in San Jose. Photo by Sonya Herrera.
Jose Peraza, a former PhD student at San Jose State University, said he usually goes to the Loaves & Fishes distribution point in Goodwill on North Seventh Street for meals. He said these services were his only means of getting hot meals while unemployed.
Peraza said he is grateful that such programs continue to be available in San Jose while residents of other places in the country are not so happy.
"Support hasn't stopped here in San Jose," said Peraza. "This is my only chance to have a hot meal today."
Jose Peraza stands with the two bags of groceries he received while distributing Loaves & Fishes meals at the Seventh-day Adventist Church in San Jose for Thanksgiving. Photo by Sonya Herrera.
Pastor Toan Quach, who leads church services, said Loaves & Fishes had partnered with them for more than two years to deliver meals to people in need. Loaves & Fishes prepares and delivers the food while the church pays for facilities and other expenses.
The pastor said the church would normally serve warm Thanksgiving meals indoors, where more than 70 people would dine together. However, due to the pandemic, his and other dining rooms are only allowed to serve take-away meals in packed lunches.
According to Quach, his church serves meals from 4:00 p.m. to 5:30 p.m. Monday through Friday – no registration required.
"Everyone is welcome," Quach said, adding that in the Christian philosophy that he and his parishioners adopt, gratitude does not cease to be grateful for one's blessings.
"Real gratitude means that you are a blessing to someone else," Quach said.
Former PhD student Peraza said he wasn't looking too far into the future given the pandemic and economic uncertainty this year. However, the possibility of a widespread coronavirus vaccine bodes well.
"Right now my only hope and expectation is that people will talk to each other again without a mask," said Peraza.
Quach said Thanksgiving, especially this year, is a reminder to be grateful for the blessings we enjoy.
"Be grateful," said Quach. "Sometimes what little you have is someone else's dream."
Contact Sonya Herrera at [email protected] or follow @SMHsoftware on Twitter.