While industries across Silicon Valley are slowly recovering from the COVID-19 pandemic, the aviation industry is having a tougher time.
Norman Y. Mineta San Jose International Airport saw a 53% decrease in passengers in early April this year compared to before the pandemic. The nearby San Francisco International Airport saw a 60% decrease in passengers over the same period – the largest decrease of any airport in the country. Both San Jose and San Francisco are among the five largest airports where passenger numbers have decreased the most.
The decrease in passengers in San Jose is around 28%, almost twice as high as the national average. But officials close to the inner workings of the airport say the international transportation hub "weathered the storm".
"The revenue was utterly devastating," said Russell Hancock, president of the nonprofit economic think tank's Silicon Valley joint venture. "However, due to the enlightened financial management, they had emergency funds at their disposal to keep the airport running. I think it's really impressive. "
Figures from the Bureau of Transportation Statistics show that in 2020 domestic passenger traffic in the US decreased by 59% from prepandemic and internationally by 74%.
The airport rental car garage. Photo by Lloyd Alaban.
According to Caltrans, air traffic at Mineta San Jose International Airport rose from 15.6 million passengers in 2019 to 4.7 million in 2020. As early as the beginning of the year, the airport saw an increase in domestic and cross-border passengers on state trips such as flights to Los Angeles, San Diego and Las Vegas.
"Santa Clara County was very quick to respond to the pandemic," said Scott Miller, a professor in the Department of Aviation and Technology at San Jose State University. "That has done a lot to reduce travel, especially in San Jose."
It wasn't all bad news for SJC. Alaska Airlines, the second most flown airline in San Jose, added flights from Palm Springs, Missoula, Montana, Redmond, Oregon, Spokane, Washington and Jackson, Wyoming in 2020 and 2021. Mexico-based airline Volaris also added a route to Mexico City earlier this year.
"Even during the height of the pandemic, we found that passengers have a very slim chance of contracting COVID," said Franco Finn, spokesman for Alaska Airlines. According to Finn, the flights with the airline are back at 80% of the prepandemic level.
"We burned a lot of money," he said.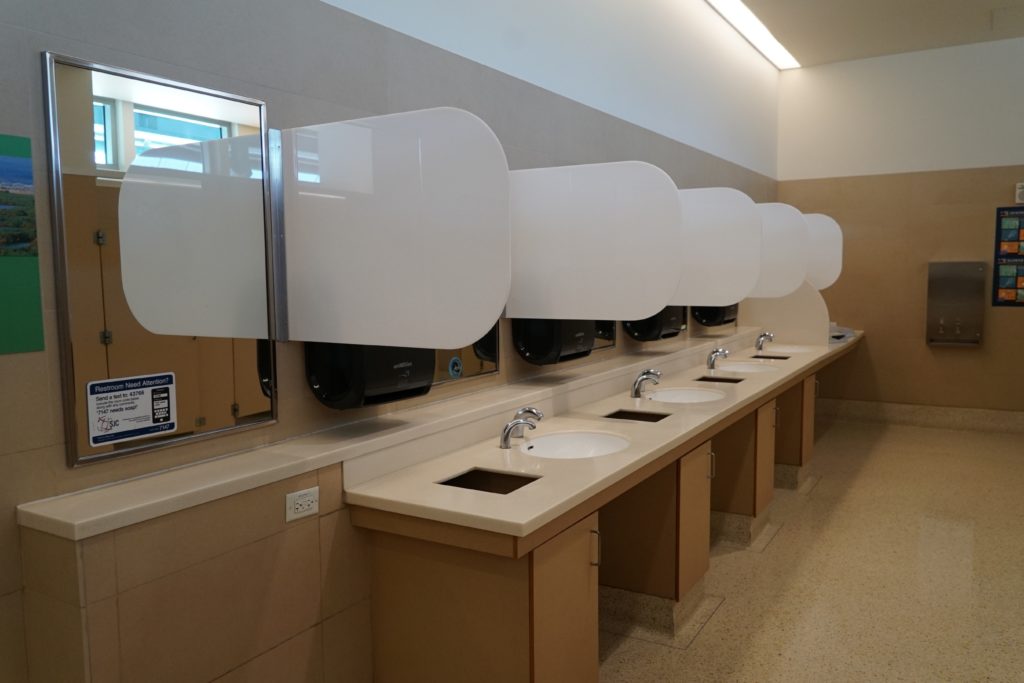 The COVID logs at San Jose International Airport include partitions between sinks. Photo courtesy of Mineta San Jose International Airport.
Finn also said there has been a massive increase in flights to Hawaii as it is an ever-popular vacation destination in addition to the state's COVID rules. Passengers flying to Hawaii must present a negative COVID test three days prior to departure. Less strict regulations await them as soon as they land.
The surge in travel to and from San Jose could bode well for the area's tech industry, which regularly made business trips to Silicon Valley and other tech hubs across the country, including Portland and Seattle. Even so, Tech had a banner year with no frequent business flights to the region.
"(The pandemic) wasn't the blow to our economy that many of us expected," Hancock said.
The reduced pedestrian traffic forced airport officials to get creative. San Jose International Airport hosted an exhibition featuring local artists, although parts of it were controversial. The transport hub also recently announced expanded parking facilities.
One of the many signs in the airport that require travelers to wear masks. Photo courtesy of Mineta San Jose International Airport.
One of the airport's more quirky measures was last July when three original songs were produced to remind passengers to follow social distancing guidelines, wear masks and wash their hands. The airport plays the songs continuously in its PA system. Another video released that same month contained a cheerful guide to the facility's COVID logs.
"We have so far failed to inspire people to travel or travel and instead introduced SJC as a great option should people decide to travel," said Keonnis Taylor, airport spokesman.
Taylor said most of the airport's COVID changes will persist in the near future, even as the aviation industry continues to open up. The airport installed ultraviolet-C lighting on all escalators to sanitize handrails and new depot equipment. Just last week, officials at checkpoints unveiled new containers of antimicrobial technology. Air travel, she said, is coming back.
"We are confident that the Silicon Valley travel market will continue to be strong," said Taylor. "We understand that the decline in traffic is due to the pandemic, and we anticipate that once travelers feel safe, they will fly back to the skies."
Contact Lloyd Alaban at [email protected] or follow @lloydalaban on Twitter.